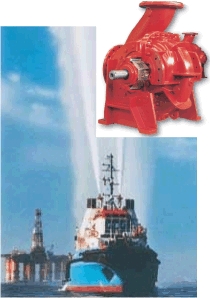 Nijhuis Fire Protection deliveres pumps for installation on board of fire-fighting vessels, Class FiFi I.II.III with certification according to Lloyd's, ABS, BV, DNV and others.

Pentair Nijhuis has a pumping program that is specifically designed for this application: resulting in good performance, compact design, reaching to minimum space requirements.

Bare shaft end pump are mainly supported for marine fire fighting applications. See on the photo a typical fifi pump side suction top discharge.
Pumps for Marine Fire Fighting
Available pumps:

1.

horizontal execution (side suction, side discharge)

2.

vertical execution (bottom suction, top discharge)

3.

3.1

angle execution (side suction, top discharge
or bottom suction, side discharge)
note for 1000-1400 m³/h pumps are also available in numor design giving the benefit
of c.w./c.c.w. piping installation, but with c.w. rotation for both pumps as frequently fire fighting vessels are equipped with two pumps.

4.

end suction type (front suction, top discharge)