A TRUE SPECIALIST IN SHIPBOARD CABLES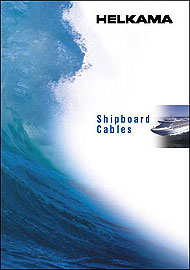 Helkama is a company specializing in the manufacturing and development of shipboard cables. Our experience in manufacturing them goes back almost twenty years. The high technical quality has been achieved by continuous development work supported by our clients. In these pages we are proud to introduce our most comprehensive range of shipboard cables.



We have chosen to produce only halogen-free cables. They remarkably improve the fire safety of the ships by not emitting toxic burning fumes or thick smoke. In addition no corrosive gases damaging the ship and its equipment are emitted in case of a fire. Using the latest technology we also have been able to reduce cable weight and size to a minimum and still maintain quality, enabling easy installation. The halogen free range of cables includes both flame-retardant (IEC 60332-3A) and fire-resistant (IEC 60331) cables. Helkama shipboard cables are approved by all major classification societies.

As a specialized, independent and optimum-sized company, focusing on service, we have been able to grow steadily by quickly responding to our customers' needs. Our short delivery times, backed up by an extensive stock of cables, enable us to deliver punctually and keep our clients satisfied. This remains our goal for the future, too.