SAAB R5
HIGH PERFORMANCE POSITIONING WITH COMBINED GPS AND GLONASS
R5 SUPREME NAV
The IMO-compliant Saab Navigation systems have been the top choice for professional mariners for close to a decade. Saab offers the R5 generation of type approved GNSS and DGNSS Navigation solutions, either as standalone systems or as an addition to the R5 Supreme AIS system.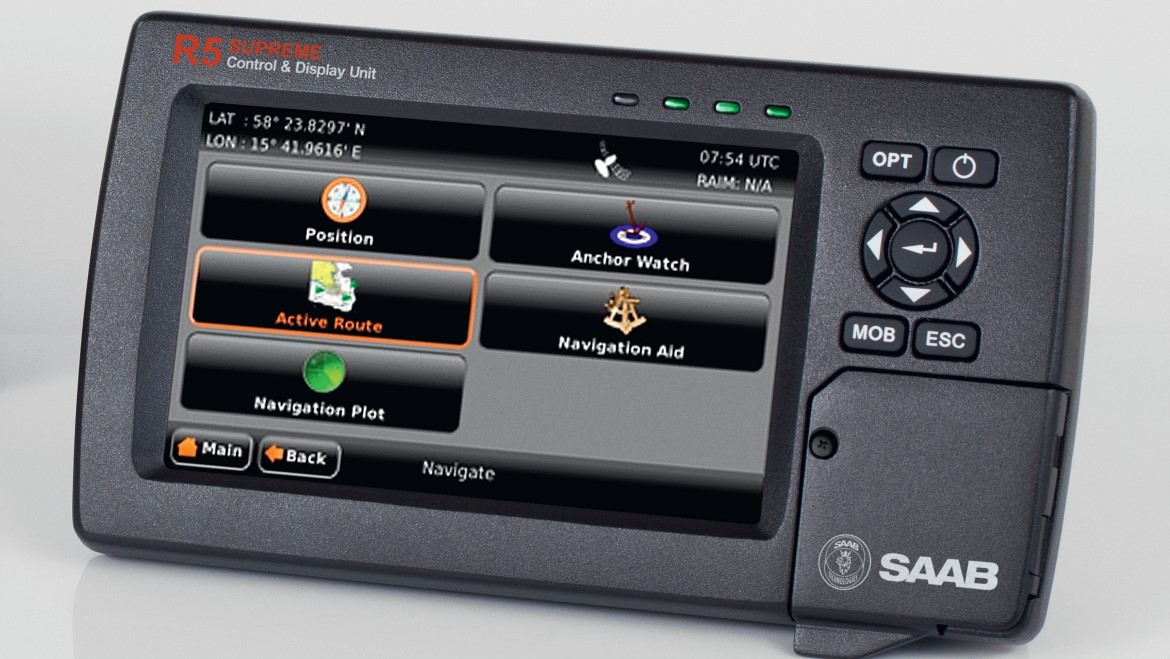 The R5 Supreme NAV products are self-monitoring and extremely user friendly. The R5 Supreme NAV system utilises the highly versatile R5 CDU and, with an option of R4 Sensors and antennas, it represents one of the most flexible navigation systems on the market.
The large colour touch-screen display and intuitive graphical user interface makes operation both visually appealing and easy. The multitude of interfaces make the system highly appropriate for integration into modern networked bridge solutions. The network interface may also be used to connect several systems in redundant configuration or to add additional passive displays.
MAIN FEATURES


GPS and GLONASS support
IALA Beacon receiver option
RAIM functionality, alerting when position accuracy is below user set limit
7" high contrast colour touch LCD
Touch, Keypad or USB keyboard control
Displays: Latitude, Longitude, SOG, COG, HDG, ROT, XTE, RAIM level and much more
Capability for handling and storing up to 4,000 individually named waypoints and up to 128 different routes
Man Over Board (MOB) and Event Mark functionality
Two trip log counters with indication of average speed and accumulated time during motion
Scheduled Alerts, user-configurable time alarms and time to ETA alarms
Flexible redundant and/or passive display configurations
Display of tidal port information
TECHNICAL SPECIFICATIONS